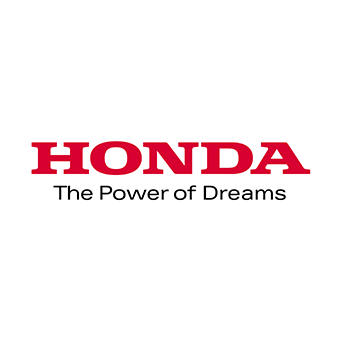 Alteryx and Amazon Athena to Build Honda's "New Pillar"
Honda Motor Co.
Applied Services: AWS / Alteryx / Classmethod Members / Build support / Cost Reduction
Honda Motor Company, founded by Soichiro Honda in 1946, is a global manufacturer of power products for motorcycles, automobiles, and equipment used in agriculture and public work projects. In recent years the company has been competitively expanding into the aircraft industry, with their HondaJet launching in 2015.
Converting Huge Amounts of Vehicle Data into New Information Services
Honda's three main businesses are "Motorcycles," "Automobiles," and "Power Products" that mainly consist of various types of motors. However, they plan to evolve these existing businesses while leveraging their strengths in technology, manufacturing capabilities, and global market base. They also plan to develop new strengths that create solutions, including "Kotozukuri" (improving user experience through digitalization).

"In addition to AI and robotics, we are actively conducting research and development in the fields of fuel cell vehicles and other electric vehicles, as well as energy, such as smart hydrogen stations. The division I belong to works to create a new information business by utilizing the big data that we possess," said Minoru Fukumori (Senior Manager, Strategy Section, Business Development Strategy Department, Business Development Management Division).
Beginning in 1998, Honda has been a provider of "Internavi" technology. Internavi links a car's navigation system to the Internet. Honda was the first in the world to commercialize a service that collects driving information from vehicles equipped with Internavi and distributes the insights gained from this information as traffic information. The data centered on location information has been collected over many years.
Yoshiaki Sugimoto, Chief of the Business Development Strategy Department, says, "Currently, similar services are offered by other companies. However, Honda's Internavi is different in that it can be installed in all models, from minicars and compact cars to luxury cars. Ours also offers a free communication service called "Link Up Free", where we collect a wide range of data from all parts of the country in statistical form so that individuals cannot be identified. We believe that the information we have accumulated is very useful" he explains.
For example, after the Great East Japan Earthquake in 2011, Honda's Internavi technology collected information on roads that had experienced traffic was released the following day. This information became known as "road traffic performance information". This technology was also used in the aftermath of the Kumamoto earthquake in 2016. By analyzing location information and other transitions, it is possible to know "where cars often brake suddenly." This information is expected to be used by local governments and police for alerting the public, and for urban planning. At sightseeing spots, Mr. Fukumori said that by obtaining such information like where tourists are coming from, and what kind of route they are taking, guidance and related facilities can be provided efficiently.
"Conventional Internavi systems receives driving information from drivers and returns the results to them. The new business will take on the role of returning those benefits to society. We are striving to create better things through repeated trial and error," said Mr. Fukumori.

Alteryx is intuitive, even for a novice in analytics
Honda was faced with the challenge of how to extract and analyze accumulated big data in order to provide information services. Huge amounts of data are stored in a data lake in the cloud. Since the company had originally been expanding the scope of its use of Amazon Web Services (AWS), they decided to build the foundation for data analysis with AWS.
Honda chose Classmethod as its partner to build the environment for their proficiency with AWS. The decision was in line with the needs of their new business development team members who wanted to select a high-quality provider with whom they could entrust the actual work to. The careful selection was important since they would be concentrating on planning and reviewing the project with a small group of elite members. Mr. Fukumori recalls that the ultimate deciding factor was "the fact that Classmethod proposed a method and structure based on the inference that we would be utilizing a new service that was not initially offered in Japan."
The rough structure of the project is to copy data from the existing data lake to Amazon S3 for the analysis infrastructure, format the data in Alteryx, and visualize the data with BI tools. The first phase employed Amazon EMR for data processing on S3, but in the new proposal it was planned to replace it with Amazon Athena.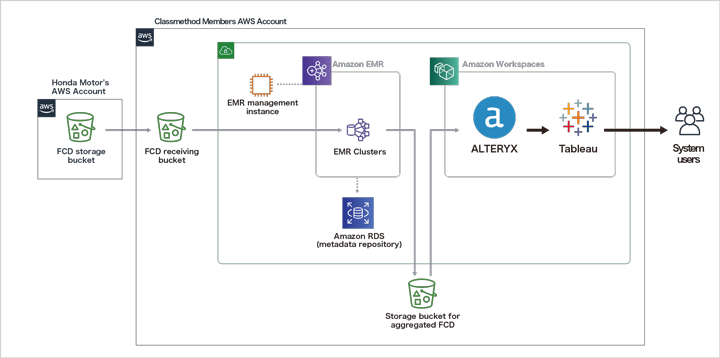 The data handled by this infrastructure is location-based. Alteryx, with its standard features designed for this purpose, had fit the needs of Mr. Sugimoto and his team.
"I originally specialized in hardware design for racecars and other vehicles, so I was not very good at analytics or programming." said Mr. Sugimoto. "Even so, Alteryx is intuitive, with functions indicated by icons, so I don't get lost when I'm trying to execute an idea for an analysis flow. Error messages are also easy to understand and deal with. It is fun to manipulate data with Alteryx and try out all sorts of different ideas."
Athena is also suitable for new business development
When AWS Athena became available in the Japan region in June 2017, Honda and Classmethod immediately began updating the infrastructure and replaced the existing EMR.
"Athena is so powerful that we can now process data in less than half the time it used to take." said Mr. Fukumori. "The biggest thing is that Athena is available for the amount of analysis that we need it for, as opposed to an EMR that is always running. The cost has been significantly reduced down to one-ninth, or sometimes one-tenth of what it used to be, and we were surprised when we looked at the usage fees."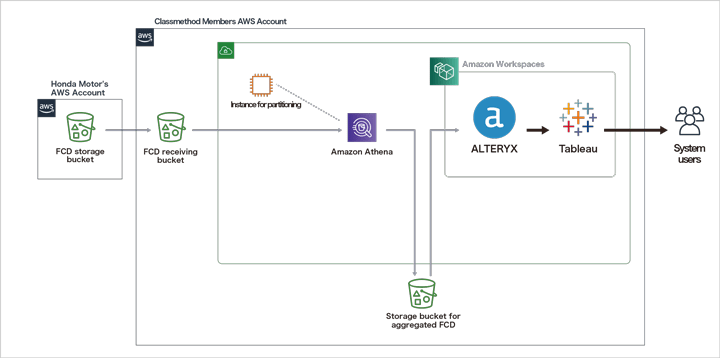 Mr. Fukumori and his team worked on the project starting from the planning stage. They personally visited local governments to introduce the new services. Therefore, unlike businesses that conduct analysis on a regular basis, there are periods when the analysis infrastructure is suspended. In such an area of new business development, Athena, which can be used on demand, was the best choice.
Mr. Fukumori recalls, "It was a great advantage" to be introduced to Athena before it arrived in Japan, and it was only because Classmethod understood Honda's business objectives, and the characteristics of AWS services and were able to apply them, including the latest information, that such a proposal was even possible.
A world where the more cars run, the happier people are
"We want to create a world where the more Honda cars run, the more useful they are to people and the happier we can make them." said Mr. Sugimoto.
Once our new information services get off the ground, we want to take advantage of the flexibility of AWS to procure large resources to scale. Also, as new services, functions, and technologies emerge, we would like to actively utilize them to advance Honda's information services.
"I feel that Classmethod is a vendor that is well versed in cutting-edge technologies such as Athena and Alteryx and has the ability to implement them faster than any other vendor. I hope that when new services are created, they will be proactively proposed to us," said Fukumori, indicating that he has high expectations for the company. We will continue to play a key role in the fourth pillar of Honda's "Kotozukuri".
This case study is based on the AWS Total Support Service.
Classmethod, an AWS Consulting Partner Award winner, supports customers' use of AWS in a variety of ways, from billing services that provide discounts on AWS usage fees to technical support for construction, operation, cloud migration, and other services tailored to customer needs.