プレスリリース 2021年6月8日
Classmethod partners with Cloudflare to provide free Waiting Room services for vaccine registration sites across 53 cities nationwide
— Classmethod is committed to continue to provide support for the introduction of the new system across Japan from June and beyond —
(Head Office: Chiyoda-ku, Tokyo, President: Satoshi Yokota, hereinafter referred to as "Classmethod")
Classmethod today announced it partnered with Cloudflare, the security, performance and reliability company helping to build a better Internet, to roll out Waiting Room services for vaccine registration sites across 53 cities in Japan. This implementation started in May, and will continue to be rolled out throughout the month of June, covering 317 more cities across the country.

Classmethod, Inc. provides technical support to enterprises in the fields of data analytics, mobile, IoT, AI/machine learning, etc. It has supported more than 10,000 accounts at 2,300 companies. Classmethod also focuses on disseminating technical information by their employees, and have published more than 25,000 articles in their owned media "DevelopersIO". Based on Classmethod's corporate philosophy of "Continuing to contribute to the creative activities of all people," the company will continue to propose the most suitable technologies.

[Image of Cloudflare Waiting Room, a digital waiting room]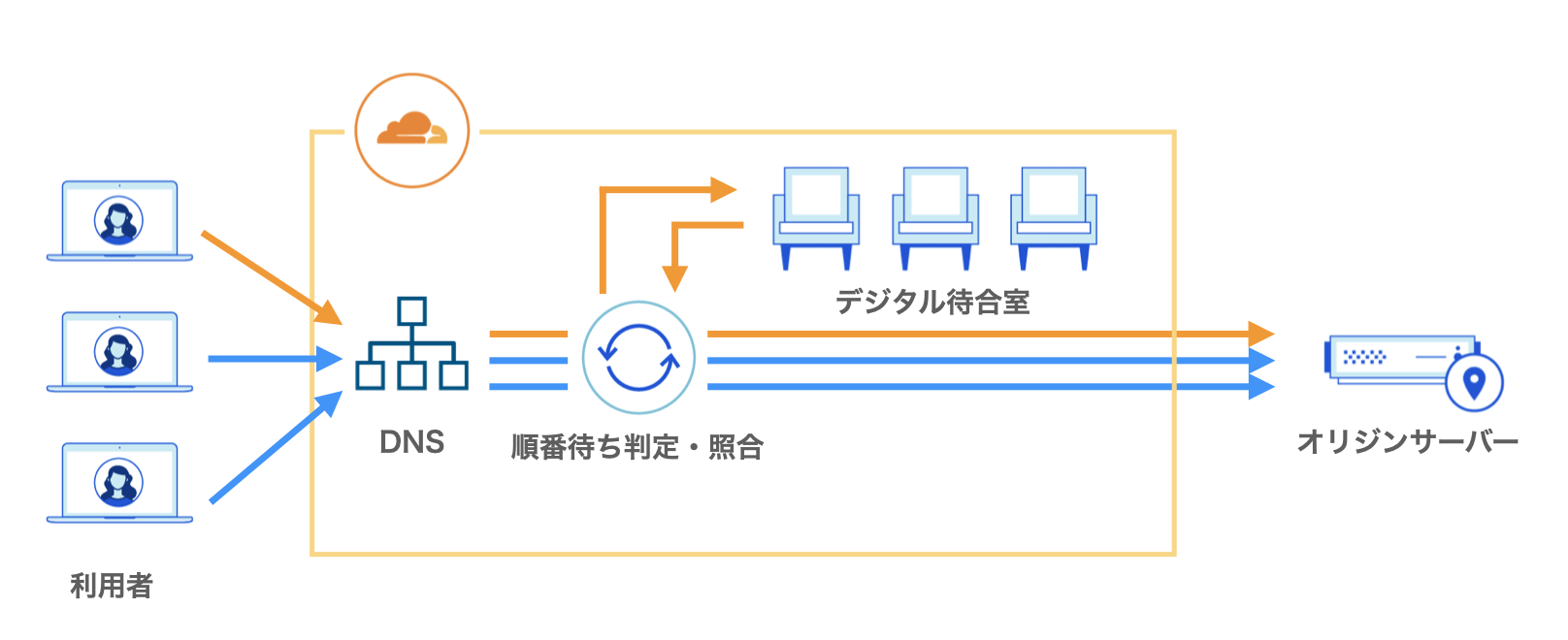 Earlier this year, Cloudflare launched Project Fair Shot, a program that offers a free and fair way for vaccine distributors around the world to use digital queues to safely scale their efforts. Project Fair Shot enables any government, municipality, hospital, pharmacy, or other organizations facilitating the distribution of the COVID-19 vaccine access to Cloudflare Waiting Room, a transparent digital queue that sits in front of any registration website for people to know where they stand in line to sign up for a vaccine without leaving home. By relying on Cloudflare's global infrastructure, Project Fair Shot can scale regardless of demand without requiring organizations to dedicate limited IT resources to code changes. Governments, medical institutions and private companies that require this service contract 3rd party entities such as System Integrators to build a customized vaccination site and manage it. These system integrators outsource implementation and deployment of Waiting Room to Classmethod.

With this partnership, Classmethod's expertise comes in by providing support to these companies and businesses that develop and operate reservation sites on behalf of the local governments with measures using cloud technology. Classmethod supports the implementation of Waiting Room and provides a secure use of these websites as part of the social infrastructure.
How to start using the Cloudflare Waiting Room
Cloudflare Waiting Room is currently available for free to organizations related to vaccine delivery services. To use the service, contact Classmethod. Classmethod will help you with the relevant steps including opening a Cloudflare account and delegating your DNS to start using the service without making any changes to existing servers. Classmethod will provide full support for the tasks required to start using the service.

Details: https://www.classmethod.cf/fairshot
Please contact us for details.
About Cloudflare
Cloudflare, Inc. (www.cloudflare.com / @cloudflare) is on a mission to help build a better Internet. Cloudflare's suite of products protect and accelerate any Internet application online without adding hardware, installing software, or changing a line of code. Internet properties powered by Cloudflare have all web traffic routed through its intelligent global network, which gets smarter with every request. As a result, they see significant improvement in performance and a decrease in spam and other attacks. Cloudflare was named to Entrepreneur Magazine's Top Company Cultures 2018 list and ranked among the World's Most Innovative Companies by Fast Company in 2019. Headquartered in San Francisco, CA, Cloudflare has offices in Austin, TX, Champaign, IL, New York, NY, San Jose, CA, Seattle, WA, Washington, D.C., Lisbon, London, Munich, Paris, Beijing, Singapore, Sydney, Tokyo, and Toronto.
About Classmethod
Classmethod, Inc. provides technical support to enterprises in the fields of data analytics, mobile, IoT, AI/machine learning, etc. In the area of AWS support, Classmethod has been recognized as a top-tier Premier Consulting Partner continuously since 2015, and in 2018 and 2020, it was awarded the "AWS Consulting Partner of the Year". AWS Consulting Partner of the Year" in 2018 and 2020. To date, we have supported more than 10,000 accounts at 2,300 companies. We also focus on disseminating technical information by our employees, and have published more than 25,000 articles in our owned media "DevelopersIO". Based on our corporate philosophy of "Continuing to contribute to the creative activities of all people," we will continue to propose the most suitable technologies.

Head office: 8F, Sangho Sakuma Building, 1-11 Kanda Sakuma-cho, Chiyoda-ku, Tokyo
Representative: Satoshi Yokota, President and Representative Director
Business : Cloud implementation support, big data infrastructure construction, mobile app development, LINE technology support, AI/machine learning technology support
Official site : https://classmethod.jp/
Technical blog "DevelopersIO":https://dev.classmethod.jp/
Facebook page: https://www.facebook.com/classmethod/
Official YouTube channel: https://www.youtube.com/c/classmethod-yt/

*The names of companies and products mentioned in this document are registered trademarks or trademarks of their respective owners.