プレスリリース 2022年11月29日
Classmethod to be Named "SI Partner of the Year" as the Top Global AWS Partner
TOKYO, JAPAN; November 28, 2022 (PST) – Classmethod, Inc. (Classmethod), led by CEO Satoshi Yokota, has been officially nominated for "SI Partner of the Year - GLOBAL" at the 2022 AWS Partner Awards. The announcement was made by Amazon Web Services, Inc. (AWS) on Tuesday, November 29, 2022 (JST). The award is given to the company that achieves the best performance as a technical partner for building and supporting the implementation of AWS worldwide in 2022.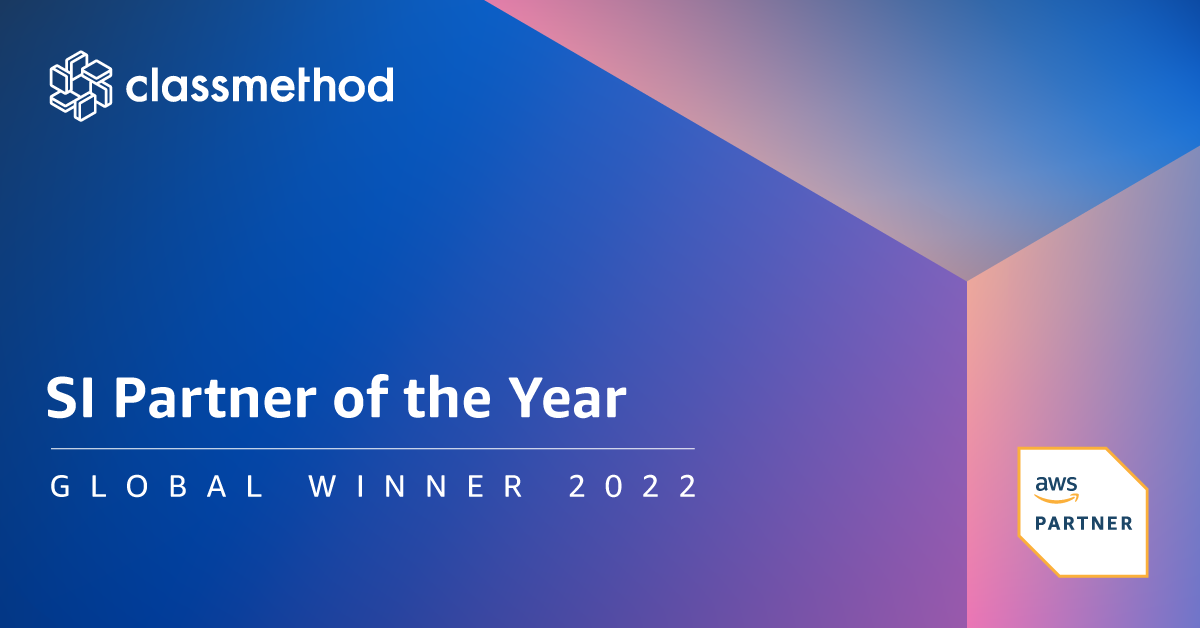 About AWS Partner Awards
Announced during a Partner Awards Gala at re:Invent, AWS Partner Awards recognize a wide range of AWS Partners, whose business models have embraced specialization, innovation, and collaboration over the past year.

"AWS Partners are at the center of unlocking value for global customers, across a wide range of industries," said Ruba Borno, Vice President, Worldwide Channels and Alliances, AWS. "We are honored to launch the inaugural global 2022 AWS Partner Awards, and thank all the nominees and winners for accelerating our customers' cloud transformation journey."

Reasons for Classmethod's Win
The "SI Partner of the Year - GLOBAL" award recognizes the top SI partners that has provided significant contributions related to revenue, launched opportunities, net new certified individuals, and AWS designations earned.
In 2022, Classmethod provided technical support to over 18,000 AWS accounts and disclosed more than 200 technical case studies on its corporate website. The number of AWS certifications that its employees hold exceeds 2,000 - half of which are either at the Professional, or Specialty level. Classmethod strives to improve its technical skills so that customers can fully depend on them.

Classmethod works diligently so that companies can focus on their business through the use of AWS. To achieve this, Classmethod provides 24/7 technical support, consulting, building environments on AWS, conducts technical training, and configurations to govern and manage security.

These efforts are recognized globally and is the reason why Classmethod's was chosen for this award.

Encouraged by this honorable recognition, Classmethod will continue in its efforts to support AWS implementation, promote its utilization, and publish technical information.

About Classmethod
Classmethod, Inc. provides enterprise services using big data, mobile, IoT, and AI/machine learning technologies, including Amazon Web Services. For seven consecutive years since 2015, Classmethod has obtained Premier Tier Services Partner (formerly Premier Consulting Partner) status from AWS – the highest in this category – for our outstanding consultation of AWS. In 2018, 2020 and 2021, Classmethod was awarded "AWS Services Partner of the Year". To date, the firm has opened over 18,000 AWS accounts for customers and assisted more than 3,000 companies. Classmethod also works tirelessly to publish technical articles on its own blog media "Developers.IO". The blog contains over 30,000 practical and hands-on entries written by its employees. Classmethod offers a variety of solutions, in an effort to uphold the company's pledge which is to "Continue contributing to the creative activities of all people."

Headquarters: Sanpo Sakuma Building 8F, 1-11 Kandasakumacho Chiyoda-ku, Tokyo
CEO: Satoshi Yokota
Business: Cloud migration, development of big data infrastructure and mobile applications, technical assistance on AI/machine learning and LINE based software development
Official Website: https://classmethod.jp/
DevelopersIO (tech blog): https://dev.classmethod.jp/
Facebook: https://www.facebook.com/classmethod/
Official YouTube channel: https://www.youtube.com/c/classmethod-yt/

* The companies and products written in this post are the registered trademarks or trademarks of respective companies.